Have you ever been in the point in a relationship with someone, that when you are separated by miles for a small chunk of time, all you can think about is the day you get back to see each other? You call each other in every spare moment, you stay up late whispering how how much you miss each other, even though you just saw each other yesterday. It's not the time you have spent apart, or the inability to speak with one another, it's the fact of the impossibility of seeing each other face to face at your own leisure. It's the worst/best feeling you have ever experienced.
I would like to tell you this lovely story of a man who has fallen in love with a woman, a woman who is broken, undeserving of such a man, a kind of Cinderella or "Pretty Woman"
So this is love.
So this is what makes life divine
I'm all aglow,
And now I know
The key to all heaven is mine
My heart has wings,
And I can fly
I'll touch ev'ry star in the sky
So this is the miracle that I've been dreaming of
So this is love
that (GOD) gave his only Son, that whoever believes in him should not perish but have eternal life.
(John 3:16 ESV)
He fell in love with you. He made you a promise of marriage. This is going to be the most amazing marriage you can ever conceive. Your husband will never have a reason to tell you he is sorry, because he will never mess up. He will NEVER do anything selfish and only think of your goodness in every decision he makes. In Jewish tradition, in order for this man to be accepted by your Father, he has to offer up a price for you. It is an insult to offer too little for you. Is the offer of his very life enough for you? It's enough for your Father. And with a cup of wine, your engagement is sealed.
And he took a cup, and when he had given thanks he gave it to them, saying, "Drink of it, all of you, for this is my blood of the (
promise)
, which is poured out for many for the forgiveness of sins. (Matthew 26:27-28 ESV)
The price is paid.
After this, Jesus, knowing that all was now finished, said (to fulfill the Scripture), "I thirst." A jar full of sour wine stood there, so they put a sponge full of the sour wine on a hyssop branch and held it to his mouth. When Jesus had received the sour wine, he said, "It is finished," and he bowed his head and gave up his spirit.
(John 19:28-30 ESV) And in His death, he has combated the world of darkness and evil and conquered it.
But in fact Christ has been raised from the dead, the firstfruits of those who have fallen asleep. For as by a man came death, by a man has come also the resurrection of the dead. For as in Adam all die, so also in Christ shall all be made alive. But each in his own order: Christ the firstfruits, then at his coming those who belong to Christ. Then comes the end, when he delivers the kingdom to God the Father after destroying every rule and every authority and power. For he must reign until he has put all his enemies under his feet. The last enemy to be destroyed is death.
(1 Corinthians 15:20-26 ESV) After that battle was won, he returned to tell you he must go away again, to prepare for you a home.
According to Jewish tradition, your bridegroom must go home to his father and prepare a home for you. You must wait until Our Father says it's ready for us and then you can spend all eternity with him.
In my Father's house are many rooms. If it were not so, would I have told you that I go to prepare a place for you?
(John 14:2 ESV) Since I began celebrating Lent a few years ago, I have tried to be intentional about how I celebrate the Lenten season. Lent is a time of fasting, of prayer, and of alms giving in preparation for Easter, the return of the bridegroom to the church. The Lover of our Souls has conquered death, has returned to this earth to prove His fulfillment of His promise to us and will come again to judge the living and the dead. When we speak of the dead, we usually speak of the dead and buried. But sometimes we can be dead in spirit, we have no hope and no freedom. We belong to the world. Slaves to it. But Christ has paid your bride price. You don't have to belong to the world any longer. You've become alive in Christ! Easter is a celebration of your marriage to the King of Kings, and His journey to prepare your home for you! In his love we have a hope and freedom. You do not have to do anything to win his love. He already loves you. You already belong to him! So in this time of preparation, in the time of anniversary between meeting your lover, and your wedding day. How do you celebrate? What do you want more than anything when your anticipated the return of your lover? What do you do in the anticipation of seeing him? Part of what I will be doing for lent is participating in the bloom book club on
incourage.me
Prayer: Finding the Hearts True Home
by Richard J. Foster. (You still have time to join them if you wish.)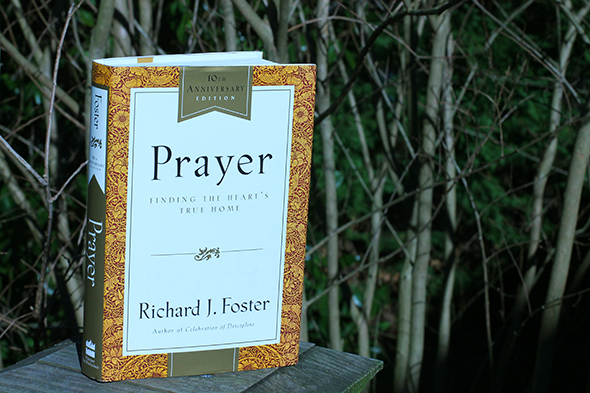 When you are waiting and longing for your lover, what's more comforting than communicating with him?
Excerpted from
by Scotty Smith