Pride, Prejudice and Pivoting
Mark Driscol on Esther 5
Mark Driscol on Esther 6
C.S Lewis The Great Sin
John Pipers Poetry on Esther
(pdf)
Esther Moments - John Piper
Queen Esther Mysteries of The Bible Part 1
Queen Esther Mysteries of the Bible Part 2
Queen Esther Mysteries of the Bible Part 3
Queen Esther Mysteries of the Bible Part 4
This weeks Memory verses
And we know that for those who love God all things work together for good, for those who are called according to his purpose.
(Romans 8:28 ESV)
If your enemy is hungry, give him bread to eat,
and if he is thirsty, give him water to drink,
(Proverbs 25:21 ESV)
Pride goes before destruction,
and a haughty spirit before a fall.
(Proverbs 16:18 ESV)
and said to them, "Whoever receives this child in my name receives me, and whoever receives me receives him who sent me. For he who is least among you all is the one who is great."
(Luke 9:48 ESV)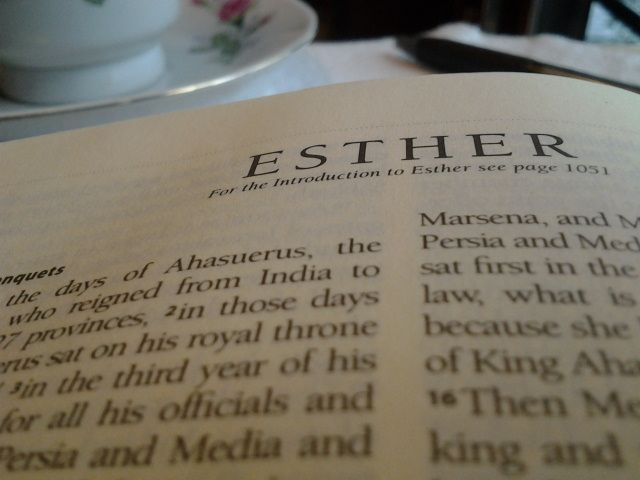 We are Reading
The Players
King Xerxes
Esther
Mordecai
Haman
The Story
Chapter 5
Esther Fasts and Prays and on the third day she puts on her royal robes and risks her life to go before the king. As she enters, knowing she faces immediate death by the ax she approaches the king. King Xerxes extends his royal scepter in favor of Esther to save her life, and Esther comes to him with her requests. She invites Xerxes and Haman to a private dinner that evening.
After the dinner, King Xerxes again asks Esther what her request is, Esther says "Come to dinner again tomorrow night?"
Haman, so excited that he was invited to this private dinner runs home to tell his wife. On the way there he runs into Mordecai which totally puts a damper on the situation.
Haman's wife tells Haman that he will feel better once he builds the gallows for Mordecai. So Haman begins building a 75 ft. spike to impale Mordecai on.
Chapter 6
Around the same time, King Xerxes is tossing and turning in bed because he can't sleep. So Xerxes asks for the royal records to be read out loud to him. As he is being read to King Xerxes realizes that he never honored Mordecai for saving his life that one time, a minute ago. He feels awful about this and calls the first person in the courts to come and speak with him to figure out which way to honor Mordecai. It just so happened that Haman was walking in the courts, so King Xerxes calls him over and asks Haman what he thinks would be the best way to honor someone.
Haman, thinking that when the King said "someone" he meant "you Haman" devised a lavish parade for himself that he described to the King. The King agreed and made Haman in charge of Mordecai's parade, along with making Haman in charge of leading Mordecai's horse.
Mordecai went back to work, and Haman went back to his house to sulk. Haman's wife Zeresh prophesied that Haman's consumption of humble pie marked the beginning of his fall.
Discussion Questions
Again, answer the questions that peak your interest, or ask your own. Please feel free to make your own observations.
Compare Esther 2:15-16, 4:10-11 and 5:1-2. How has Esther changed throughout this book?
How does Esther dress to meet the king? Why is this significant? Why do you think Esther doesn't come straight out and ask King Xerxes for what she wants?
Why do you think Esther invited Haman along to dinner?
Haman experienced extreme highs and lows in one evening. What was the source of his emotional swings?
What is the decision between Providence and Coincidence? In the book of Esther where do you see Providence vs Coincidence? Or is it the same thing?
How does Mordecai and Haman's switch of roles in Chapter 6 mirror Christ's statement in Luke 9:48
Pride goes before destruction,
and a haughty spirit before a fall.
(Proverbs 16:18 ESV)
If anyone would like to acquire humility, I can, I think, tell
him the first step. The first step is to realise that one is proud.
And a biggish step, too. At least, nothing can be done before it.
If you think you are not conceited, it means you are very
conceited indeed. ~C.S Lewis
How are you like Haman?
Esther made some wise decisions in regards to her husband. In what ways can we learn from Esther in helping out the men in our lives?
What have you learned about God within this chapter?
How does the story of Esther mirror the gospel?
What kind of transformation have you seen in your life? What events led to this transformation?