I've attended church my entire life, but I did not understand what the message of the gospel really was until I was twenty six years old. Every one has a different learning style!
Sometimes I need to remind myself of the good news.
What's the Gospel?
What's the gospel? I'll put it in a sentence.
That's the gospel.
Mark Driscoll
Eric Ludy
Tim Keller
Christ lived the life we should have lived, and died the death we deserve to die.
The Bad News
The Good News
But God loves us, and provided us a gift:
Jesus lived and died as a replacement for us
and rose again in fulfillment of the Jewish scriptures
We can now have the intended relationship with God if we believe,
If we confess that we are sinners, and turn to God,
We are more sinful than we can possibly understand or imagine,
and we are more forgiven and loved than we will ever deserve or can ever hope for.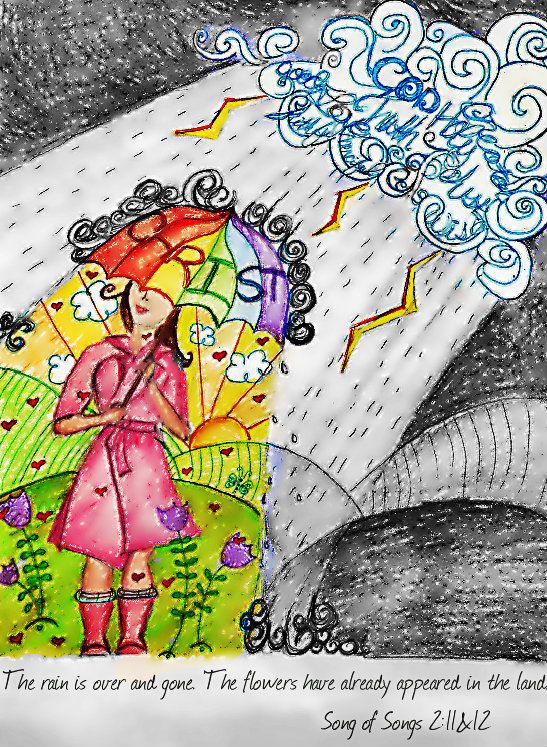 God created this world, and everything in it. (The Rain Cloud) Instead of trusting in our creator, we chose to trust in ourselves, and so separated ourselves from God. We live in sin, apart from God. (The darkness) We deserve his wrath, and to be sentenced to death. (The rain and lightening) But God Loves us SO MUCH that he sent his son, Jesus Christ, (The Umbrella) to take our place. He is the light of the world. (The Sun) God is Love. (The raining of hearts) If you have faith, and believe in Him, you will be brought into the light, made new, and you will be given everlasting life.
(Artwork by Sarah Varley)
The Umbrella Gospel
by
Sarah Varley
is licensed under a
Creative Commons Attribution-NonCommercial-NoDerivs 3.0 Unported License
. *You are free to use my above illustration. Please email for a clearer image.
Acts 13:17-41 (ESV)