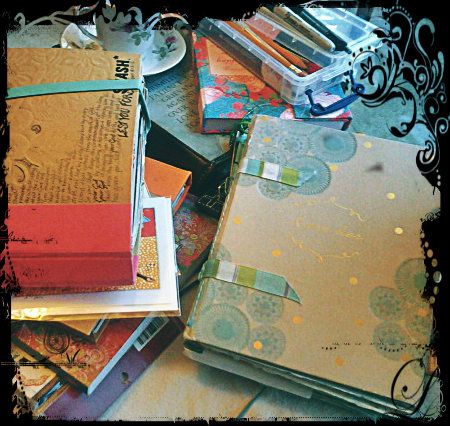 I came across "Faith-booking" under bizarre circumstances. My journey to Los Angeles in and of itself that I am documenting over on Wordpress.
Moving right along, I was on a plane flying back to Kansas City from my interview at UCLA. I was fortunate enough to have a seat between me and the other passenger. Whew! How often does THAT happen on an airplane?!
Well normally, when I get on a plane, I get out a book, or take a nap. I normally DON'T talk to the person sitting next to me. (I guess this should change with my resolution to smile at everyone.) Low and behold, this woman, with a unique sense of style, begins to talk to me. We chat it up for a while…and then out of the blue she says "This is SO strange! I NEVER do this. Usually I get on a plane and pull out my book and I'm a real B***h! But there is just something about you, you have this aura. I want to help you!"
Woah!
She proceeds to tell me that she is an astrologist and she would like to read my charts. I don't know if I believe in astrology. I believe that God created the stars, and God reveals secrets and gives people the gift of prophecy, and the only way you can know if someone is a true prophet is if what they say becomes true.
Regardless, before this woman got off the plane she felt the need to give me a message. She said "I need to tell you something, whether you believe me or not. I think you need to create a book about yourself. You need to have a documentation of who you are so that when you are rich and famous, and people ask you to do things that are against who you really are. You will have something to look at to test it."
Huh!
At first I found the concept really self-serving, but the idea didn't escape me and weighed on my heart for a good few months. Part of what was bothering me was the fact that I wasn't (and am still not) quite sure how to define myself…even if I wanted to. (Let's be honest…it would be nice to be able to define myself.) Then one day it dawned on me! I am a child of God, and that's all that needs to be said. And that's that!
Then the question came up "who am I as a child of God?" and so began the creation of my first faith-book.
It has largely been my own exploration. I've found some guidance online, but it was kind of hard to find information. I started finding that themes were arising in my life and I would create pages reflecting the words that kept popping up in my life.
So for those of you who like scrapbooking, this might be a new outlet for you. For those of you who are intimidated by scrapbooking and have a hard time coming up with pithy and creative sayings…join the club!
Some of you may keep journals or prayer journals (which I highly recommend) I find referring to these extremely helpful while I am working on my faith-pages.
General Procedure
Materials:
ü
A Scrapbook (I prefer Smashbooks because I'm that kind of a person. They also come with a felt pen, glue and pages that already have scrapbook paper. You might prefer other styles of scrapbooking)
ü
Scrapbook Paper (Use what you have to begin with. Scrapbooking can get addictive and a little hard on your wallet if you are not careful. I prefer to get scrapbook pads or kits that include stickers, letters and punch-outs.)
The general instruction is to take your pictures, stickers and paper and arrange them on your page. Paste them down, add some quotes and scriptures and voila!
That's intimidating huh?! That's what I thought anyway!!! It's scarier than looking at a blank white page!
I am going to suggest choosing a theme to guide you through your faith book journey. One of my Faithbook themes roughly is "A Child of God" I'm currently working on one that was inspired by a book by Eric and Leslie Ludy called "When God Writes your Life Story" and the book "Authentic Beauty" by Leslie Ludy.
Other Theme Ideas:
Current Bible Studies
Prayers
Family
Blessings
Wedding
Baby
New Year New You!
Off with the Old on With the New
God Winks
Etc….
2 And you shall remember the whole way that the

Lord

your God has led you these forty years in the wilderness, that he might humble you, testing you to know what was in your heart, whether you would keep his commandments or not.
3 And he humbled you andlet you hunger and fed you with manna, which you did not know, nor did your fathers know, that he might make you know that man does not live by bread alone, but man lives by every word[a] that comes from the mouth of the

Lord

.
4 Your clothingdid not wear out on you and your foot did not swell these forty years.
5 Know then in your heart that, as a man disciplines his son, the

Lord

your God disciplines you.
6 So you shall keep the commandments of the

Lord

your God by walking in his ways and by fearing him.
7 For the

Lord

your God is bringing you into a good land, a land of brooks of water, of fountains and springs, flowing out in the valleys and hills,
8 a land of wheat and barley, of vines and fig trees and pomegranates, a land of olive trees and honey,
9 a land in which you will eat bread without scarcity, in which you will lack nothing, a land whose stones are iron, and out of whose hills you can dig copper.
10 And you shall eat and be full, and you shall bless the

Lord

your God for the good land he has given you.
11 "Take care lest you forget the

Lord

your God Deut 8:2-11
Let this be
record
ed for a generation to come, so that a people yet to be created may praise the LORD: Psalm 102:17-19